Celtic have enjoyed a host of legends over the years with the Glasgow giants one of the most successful Scottish football clubs of all time. Star-studded teams have often worn their iconic green-and-white hooped shirts and guided the Bhoys to dominant spells throughout history.
Legends are made at Celtic who live long in the hearts of the club's loyal fanbase. So, 67 Hail Hail has taken a look at the top 10 heroes of this historic club. From Billy McNeill, the Bhoys' all-time record appearance maker, to Celtic's legendary record goalscorer, Jimmy McGrory.
Jimmy McGrory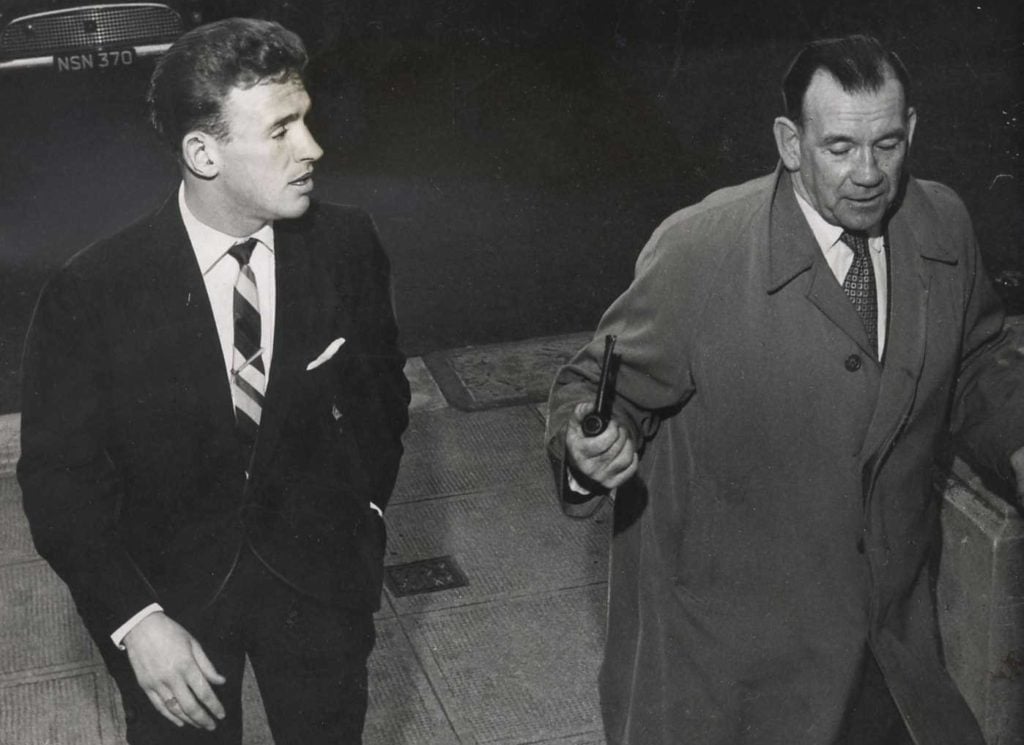 | | |
| --- | --- |
| Position: | Centre-forward |
| Appearances: | 445 |
| Goals: | 468 |
| Managers: | Willie Maley (1921-1937) |
| Years at Celtic: | 1921-1937 |
Celtic legends do not come bigger than McGrory, who scored a sensational 468 goals in 445 fixtures at Celtic Park. His hate rate of 1.05 goals per game returned a likely insurmountable club-record tally. And his work to add to Celtic's trophy history did not stop when he retired.
McGrory returned to the Glasgow giants after a decorated career as a player and enjoyed 20 years as their manager. He would help the Bhoys secure three top-flight titles during his time leading their attack. While the Glasgow native's tenure in charge would add a further crown.
The forward further secured a combined seven Scottish Cups and two League Cups with the club of his heart. McGrory belonged at his beloved Celtic, where he earned the nickname of the Human Torpedo during a career of absolute distinction and honour in the club's famed jersey.
Only once through his 16 years as a player did McGrory also fail to end the season as Celtic's top scorer en route to becoming a club legend. He further refused to leave his team in 1928 when Arsenal tried to gain the services of one of Europe's finest goalscorers of a generation.
Billy McNeill
| | |
| --- | --- |
| Position: | Centre-half |
| Appearances: | 790 |
| Goals: | 35 |
| Managers: | Jimmy McGrory (1957-65), Jock Stein (1965-75) |
| Years at Celtic: | 1957-1975 |
Jock Stein saw the potential McNeill had as the then Celtic reserve coach scouted Scotland's schoolboys in 1957. A loan move to Blantyre Vics followed before McNeill would get his shot in Celtic's first-team. It was the start of an iconic career with a record 790 games at the club.
McNeil's time at Celtic Park saw the defender known affectionally as 'Cesar' go on to captain the Bhoys during their dominant era in the 1960s and 1970s. He helped clinch nine top-flight titles in a row, seven Scottish Cups, six League Cups and held aloft the European Cup in 1967.
His role in the Lisbon Lions cemented McNeill a place in Celtic's history as an unquestionable club legend. While each of his club-record appearances came in their starting line-up, having never played off the bench. Even though his time in green-and-white started at 18 years old.
It took McNeill next to no time to hold a pivotal role in the Celtic side as a rock of McGrory's backline. He was the foundation and architect that made Celtic Park a fortress. It would only be fitting, then, that the defender would bow out after beating Airdrie in the Scottish Cup final.
Henrik Larsson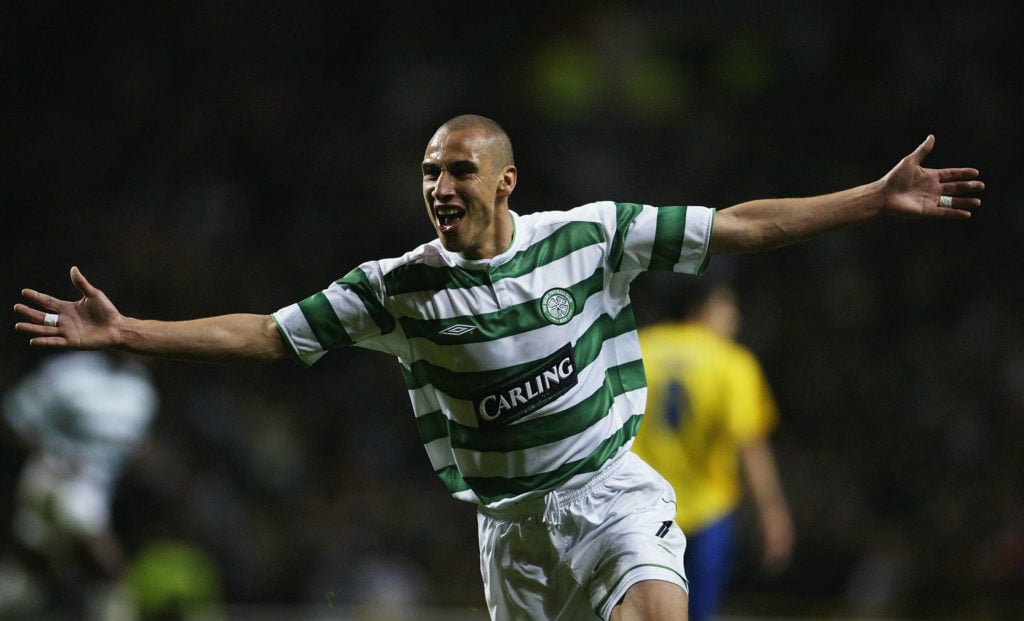 | | |
| --- | --- |
| Position: | Centre-forward |
| Appearances: | 315 |
| Goals: | 242 |
| Managers: | Wim Jansen (1997-98), Jozef Venglos (1998-99), John Barnes (1999-2000), Martin O'Neill (2000-04) |
| Years at Celtic: | 1997-2004 |
There is a reason why Henrik Larsson is known as the King of Kings in Glasgow following the forward's legendary spell with Celtic. He scored a stunning 242 goals in 315 games in green-and-white from 1997 to 2004 to place the Bhoys back atop the Scottish footballing pyramid.
Celtic had not lifted the top-flight trophy since 1988 before Larsson arrived from Feyenoord for £650k. It proved to be one of the biggest bargains in history. The Sweden icon swept up four of the following seven league crowns on offer before moving to FC Barcelona in a free transfer.
While his arrival did not merit much adulation, his efforts at Celtic Park saw Larsson work his way into the hearts of their fans. He also earned global recognition with nominations for the Ballon d'Or in 2001, 2003 and 2004. Titles also arrived at Barcelona and Manchester United.
But it was with Celtic that Larsson became the player that fans would remember for years to come. It was also at Celtic Park that UEFA awarded the forward the European Golden Boot in 2000/01. He scored a huge 53 goals with 35 in the league as the top scorer on the continent.
Jimmy Johnstone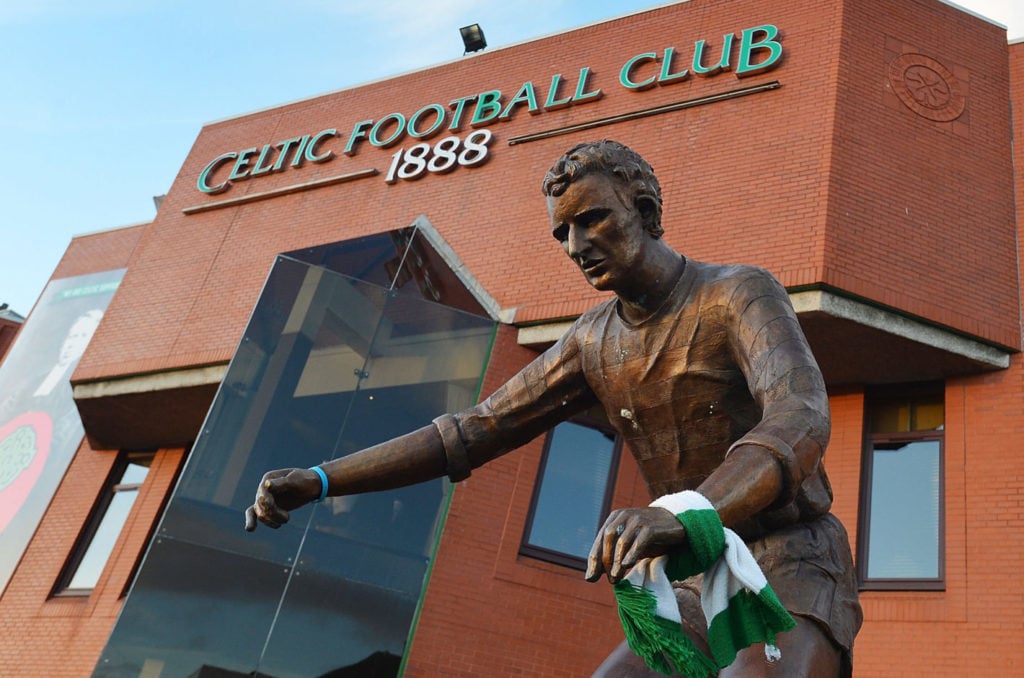 | | |
| --- | --- |
| Position: | Outside right |
| Appearances: | 515 |
| Goals: | 130 |
| Managers: | Jimmy McGrory (1961-65), Jock Stein (1965-75) |
| Years at Celtic: | 1961-1975 |
Celtic fans affectionally knew Jimmy Johnstone as Jinky after his legendary spell in Glasgow as an outside right forward. Stein harnessed the potential of an unpredictable youngster to add flare to his world-class ranks. In doing so, he also helped to mould one of their all-time best.
Johnstone played with the greatest bravery to run with the ball and tear opponents absolutely ragged. The Bhoy from Viewpark could take a team apart all on his own and regularly did so on the biggest of occasions. Johnstone's trickery also helped to some of Celtic's greatest games.
Red Star Belgrade could not stop Johnstone as he ran away with a European Cup Winners' Cup tie in 1968. The forward flashed home two goals in the second half to help toward their famous 5-1 result. And he was at it again against Leeds United in their 1970 European Cup encounter.
Johnstone decimated the Elland Road natives in the semi-final of the UEFA cup at Hampden Park. It was par for the course for the Celtic legend to humble the best in the business. The Bhoys also recognised his standing as one of their all-time greats with a statue at Celtic Park.
Paul McStay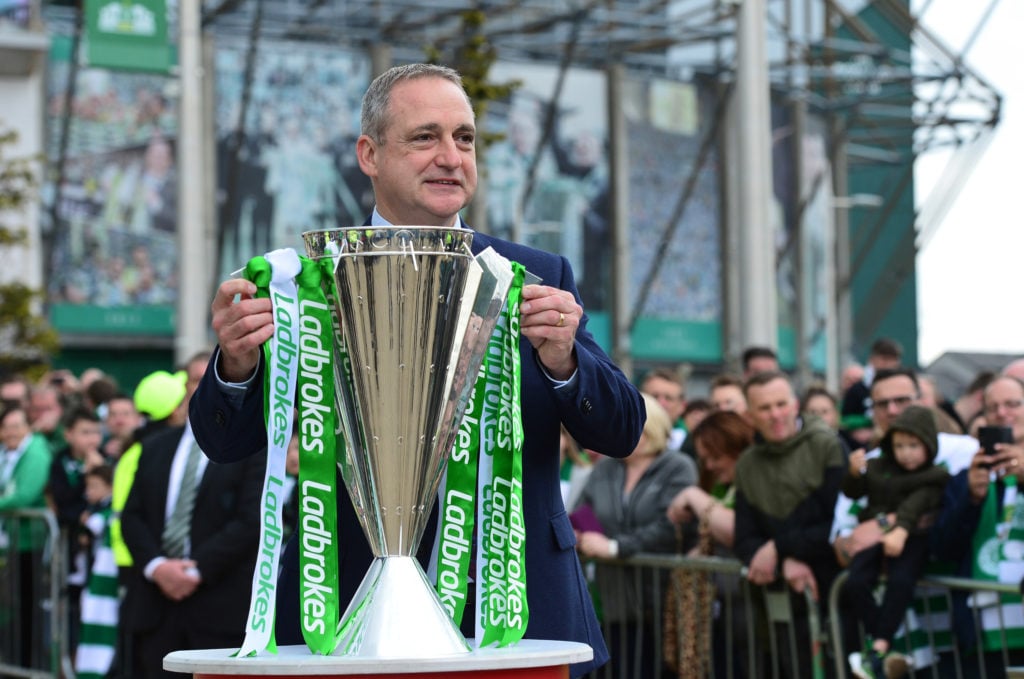 | | |
| --- | --- |
| Position: | Central midfielder |
| Appearances: | 677 |
| Goals: | 72 |
| Managers: | Billy McNeill (1981-83), David Hay (1983-87), Billy McNeill (1987-91), Liam Brady (1991-93), Lou Macari (1993-94), Tommy Burns (1994-97) |
| Years at Celtic: | 1981-97 |
Paul McStay was The Maestro at Celtic for 16 years to earn his status as a club legend. The midfielder pulled the strings at Celtic Park across 677 appearances as the lynchpin of their plans. And he had icons to follow in his great-uncles, Willie and Jimmy, from before WWII.
McStay would forge his own path as a Celtic legend, though, as he carried the club through the highs and lows of the 1980s and 1990s. The midfielder was the commanding force on the field and would also go on to win three top-flight titles, four Scottish Cups and one League Cup.
His talent deserved far more silverware but helped to secure some of the more memorable trophies in Celtic's history. The 1985/86 season seemed set to finish in disappointment with Hearts at the top. But the Bhoys triumphed in a final-day decider with McStay at the heart.
The midfielder scored one of Celtic's five goals to thrash St Mirren as Dundee did the Bhoys a favour by beating Hearts. It was enough to grab the crown and another followed for McStay in 1987/88. With McNeill at their helm, McStay produced his finest season to secure the double.
Scott Brown
| | |
| --- | --- |
| Position: | Central midfielder |
| Appearances: | 611 |
| Goals: | 46 |
| Managers: | Gordon Strachan (2007-09), Tony Mowbray (2009-2010), Neil Lennon (2010-2014), Ronny Deila (2014-16), Brendan Rodgers (2016-19), Neil Lennon (2019-21) |
| Years at Celtic: | 2007-2021 |
Gordon Strachan sealed a coup in May 2007 as Celtic signed the most exciting young player in Scotland. The Hoops paid Hibernian £4.5m to edge out interest from Everton, Middlesbrough, Tottenham and Rangers to sign Scott Brown. The midfielder had just made his Scotland bow.
Brown was proving to be a dynamic technician before he arrived at Celtic Park. But the next 14 years saw the Dunfermline native go on to become one of the greatest captains the club has ever seen. He would also secure 10 top-flight titles, seven League Cups and six Scottish Cups.
The midfielder added a greater defensive presence to his game under Strachan having joined Celtic as a driving force from the engine room. While Tony Mowbray later handed Brown the club's captaincy in 2010. He had offered great leadership and a will to play through the pain.
Sporadic injuries would force Brown to miss the odd match but his presence was always felt on the pitch. That was particularly true during the 2017/18 term as Brown became only the second player after Larsson to win the PFA Scotland Player of the Year award twice after his in 2008/09.
Kenny Dalglish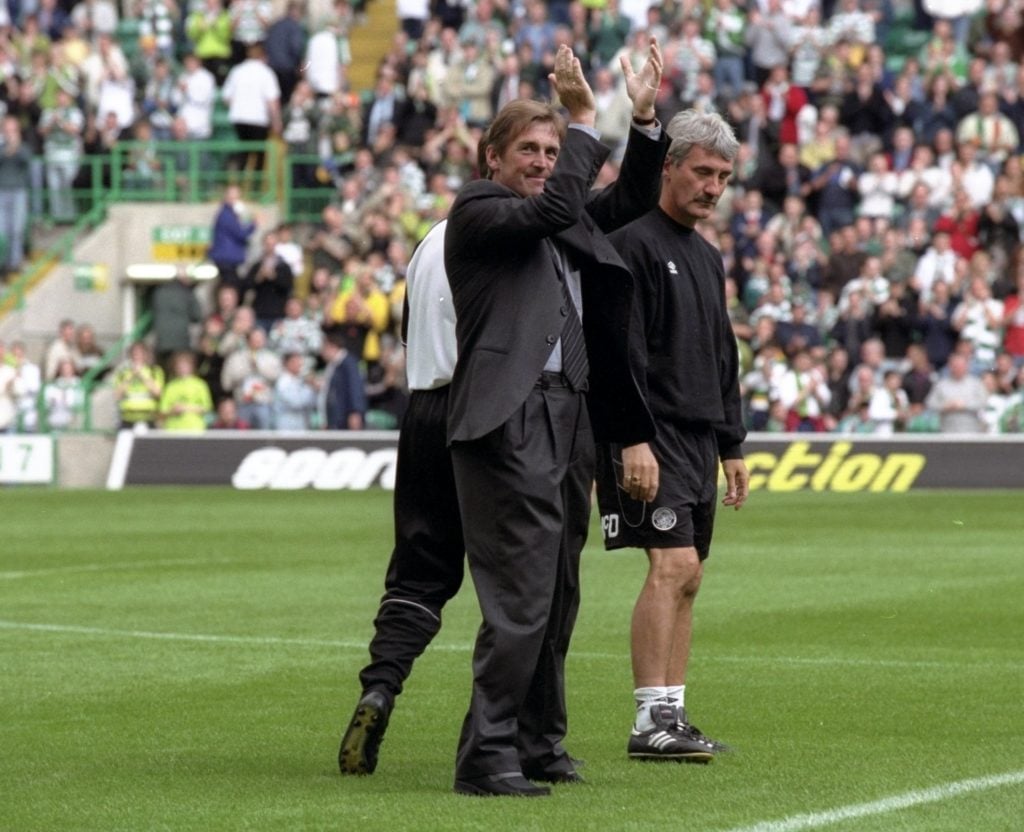 | | |
| --- | --- |
| Position: | Centre-forward |
| Appearances: | 320 |
| Goals: | 167 |
| Managers: | Jock Stein (1967-77) |
| Years at Celtic: | 1967-1977 |
A 10-0 thrashing of Hamilton Academical in the first leg of the 1968/69 League Cup quarter-finals afforded Stein a chance to rotate his squad. Kenny Dalglish would start the tie on their bench. But the second half brought the introduction of a future Celtic legend in the forward.
Dalglish had to wait another year before the reserve team star would get his Celtic Park debut. While his real breakthrough would also not come before the 1971/72 term. But he made his mark when the time finally came by firing goals in three fixtures against Rangers in as many weeks.
His efforts at the top of Stein's attack would go on to see Celtic continue a dominant period in the club's history. The Hoops won the top-flight title in nine-straight seasons from 1965/66 to 1973/74. While Stein would also award Dalglish their captaincy during the 1975/76 campaign.
The 1975/76 season would not feature any titles at Celtic Park but silverware returned in the following term. It would be Dalglish's last in green-and-white before Liverpool struck a £440k deal in 1977. He later returned to Celtic as their director of football, then caretaker manager.
Danny McGrain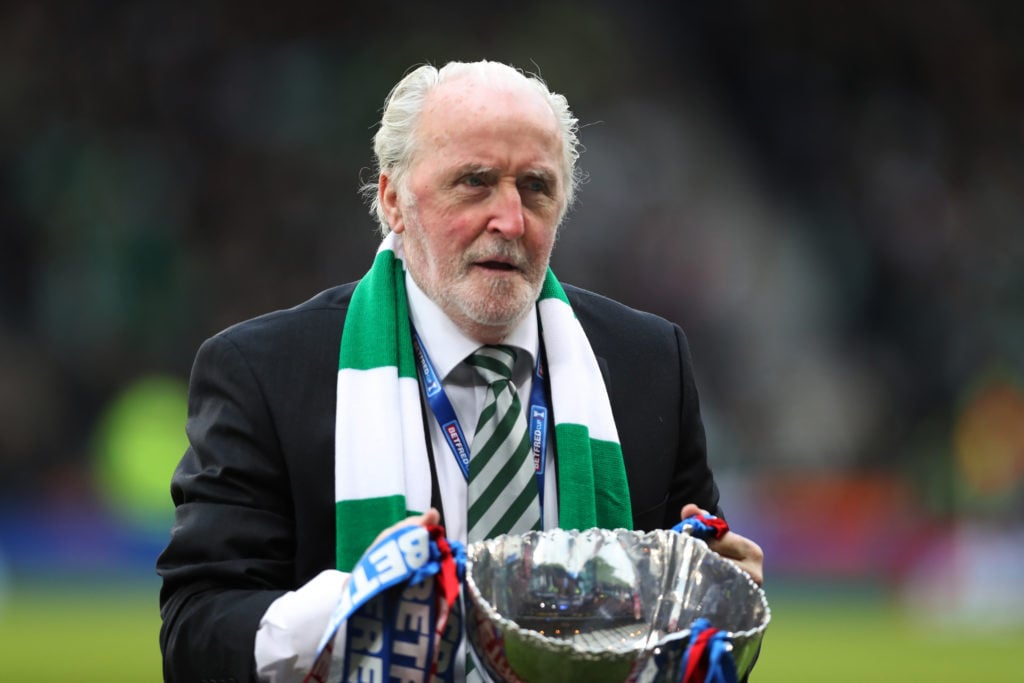 | | |
| --- | --- |
| Position: | Right-back |
| Appearances: | 663 |
| Goals: | 8 |
| Managers: | Jock Stein (1967-78), Billy McNeil (1978-83), David Hay (1983-87) |
| Years at Celtic: | 1967-1987 |
Celtic signed future club legend Danny McGrain to their reserve team in 1967, days after he turned 17. The right-back would go on to enjoy a 20-year bond with the Bhoys that returned 663 appearances. He also won six league titles, five Scottish Cups and the League Cup twice.
McGrain was one of the finest full-backs of his generation and also represented Scotland 62 times. His skills were honed with Celtic's reserve team as one of the most talented members of the Quality Street Gang. They made McGrain a more than worthy heir to the Lisbon Lions.
Jim Craig's departure at the end of the 1971/72 season pathed the way for McGrain to come through. It did not take long after that for the full-back to become one of the best in Europe. While the start of the 1977/78 season would also see the defender take over their captaincy.
He would retain the armband at Celtic Park for near-on a decade and lifted the top-flight title three times as their skipper. McGrain's titles as their captain also included their famous 1986 triumph at St Mirren. He further remained a constant presence until the age of 36 years old.
Patsy Gallacher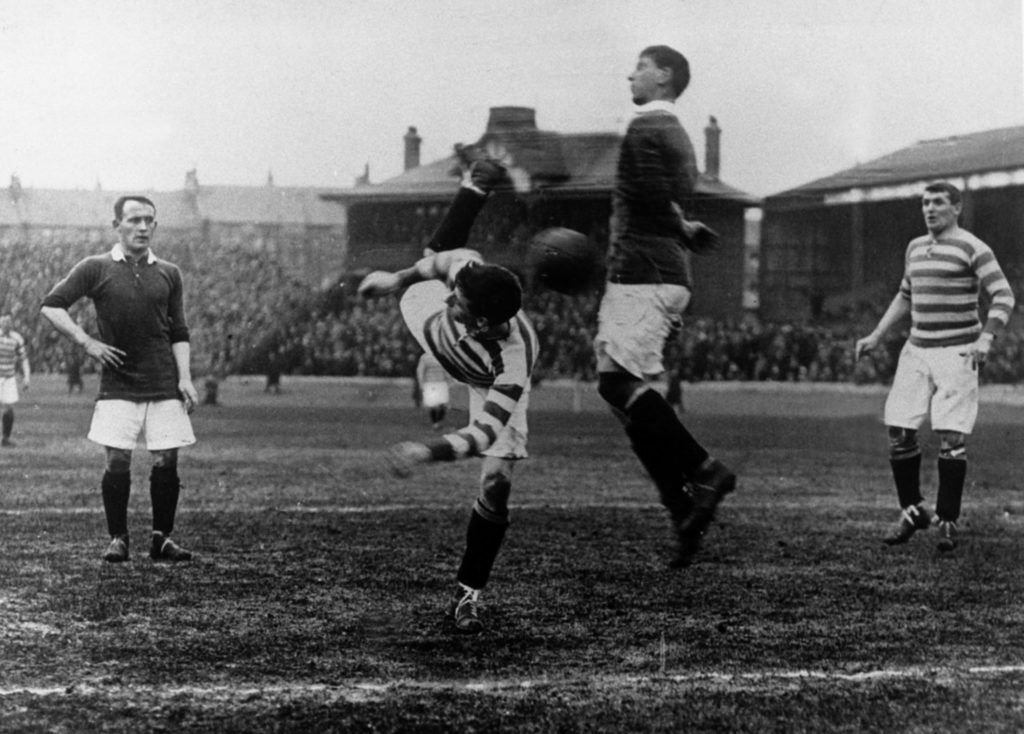 | | |
| --- | --- |
| Position: | Inside right |
| Appearances: | 464 |
| Goals: | 192 |
| Managers: | Willie Maley (1911-25) |
| Years at Celtic: | 1911-1925 |
Patsy Gallacher might have only been 5 ft 7 but more than held his own to become a legend at Celtic. The inside right forward went on to feature 464 times with the Bhoys and struck 192 goals. All the while the Irishman's career in Glasgow started at just 18 years old back in 1911.
Willie Maley brought the attacker into his plans to add a new spark and Celtic quickly reaped the rewards. They lifted the top-flight title four times in a row from 1913/14 to 1916/17. The club also added two Scottish Cups to their trophy cabinet during that run with Gallacher often key.
The forward continued to have an instrumental role in their success during the first half of the 1920s. Gallacher helped Celtic secure another two Scottish Cups and the top-flight trophy in 1921/22. He was particularly instrumental to their 2-1 win over Dundee in the 1924/25 final.
Gallacher's creative genius knew little bounds and found a home on the greatest stages. The attacker sealed his first and last medals with Celtic by scoring in the final of the Scottish Cup. He had further been an integral ever-present in their 1918/19 league title to depart with six.
Bobby Lennox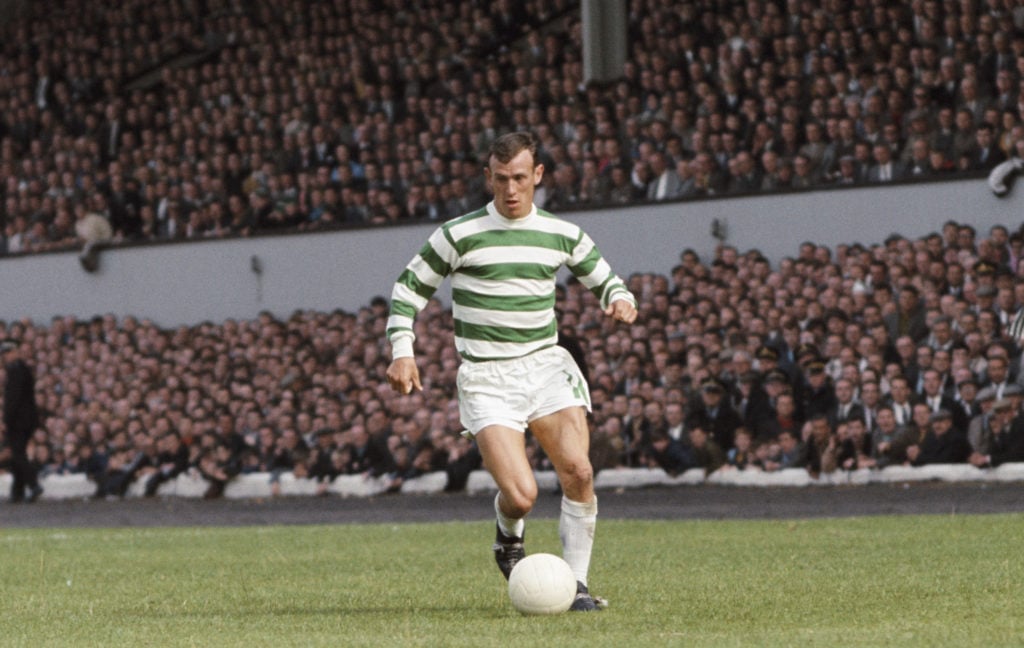 | | |
| --- | --- |
| Position: | Outside left |
| Appearances: | 586 |
| Goals: | 277 |
| Managers: | Jimmy McGrory (1961-65), Jock Stein (1965-78), Billy McNeill (1978-81) |
| Years at Celtic: | 1961-1978, 1978-1981 |
McGrory set a likely insurmountable record for goals in a Celtic shirt with 468 in 445 games. But he was also responsible for the breakthrough of the man who sits second in their charts with 277 in 586. The Celtic legend gave Bobby Lennox his debut in green-and-white in 1962.
Lennox spent almost two consecutive decades at Celtic Park with only a brief hiatus in 1978 to join Houston Hurricane. His time in Glasgow could have easily returned a number of extra goals were it not for the offside flag, as well. But his impact would deliver the European Cup in 1967.
Greats of the game Alfredo Di Stefano and Bobby Charlton revelled in the player Lennox was with Celtic. His pace could burn any defender from the outside left role in a team of legends. Yet it was not until the 1964/65 term and McGrory's last in charge that he became a regular.
There was little stopping Lennox from helping produce one of the most dominant periods in Celtic's history from there on. He would sweep up 11 top-flight honours, eight Scottish Cups, four League Cups and the biggest title in the Bhoys' illustrious history by beating Inter Milan.