For Celtic fans of a particular generation, it was fantastic hearing Oasis hit 'Roll With It' at Celtic Park last night.
With almost everyone in attendance belting out its choruses, the '(What's The Story) Morning Glory?' track remains a Parkhead favourite. A regular fixture in the late 90s and into the 2000s, the Oasis song often calls to mind big games at Celtic Park.
For a lot of Bhoys supporters, it's a song indelibly tied to the 97-98 season. A song that reminds many of winning a League and League Cup double, and consigning years of near-misses and league misery to the past.
Its origins, though, go further back than that. To find when Celtic's love affair with the song begins, you have to go back to Paris in 1995.
The Hoops were drawn in the European Cup Winner's Cup against PSG, a ludicrously talented side featuring Youri Djorkaeff, Patrice Loko and, funnily enough, Paul Le Guen [Celtic Wiki].
MORE CELTIC STORIES
Although many associate 'Roll With It' with winning the 97-98 League Cup, Simon Donnelly explained in 2020 that its roots go the City of Light, and the year the song actually came out.
Donnelly told Celtic TV in 2020: "That '97 game [League Cup Final], I remember at the end of the game, as part of the celebration, looking up to the main stand. I'm trying to catch my family, my Dad, my Mum. And 'Roll With It' came on. The whole Celtic support started singing it.
"Me and Jackie [McNamara] at the time were big Oasis fans, we were singing along.
"I stuck that [memory] up on my Twitter about the '97 final. Someone corrected me and said "that's not the first time it was played. It was played in the Parc de Princes in '95, when we played Paris Saint Germain.""
Will Oasis hit 'Roll With It' make the regular Celtic Park rotation again?
Last night had a distinctly 90s feel to it, in a very positive sense for the Celtic faithful. There were, of course, tributes to Wim Jansen, the same time 'Roll With It' got its airing. The Celtic players taking their lap of honour to that song just felt right.
And Pierre van Hooijdonk, who was in the team against Paris Saint Germain, was in the stands. That, and we've won a League Cup this season, and needed a big New Years' derby performance to regain control in the Scottish Premiership.
Far be it from me to advise whoever's DJing at Celtic Park these days. However, it'd be great if 'Roll With It' became a match-day staple again. Especially at full-time, and if – as is most often the case – we're winning games.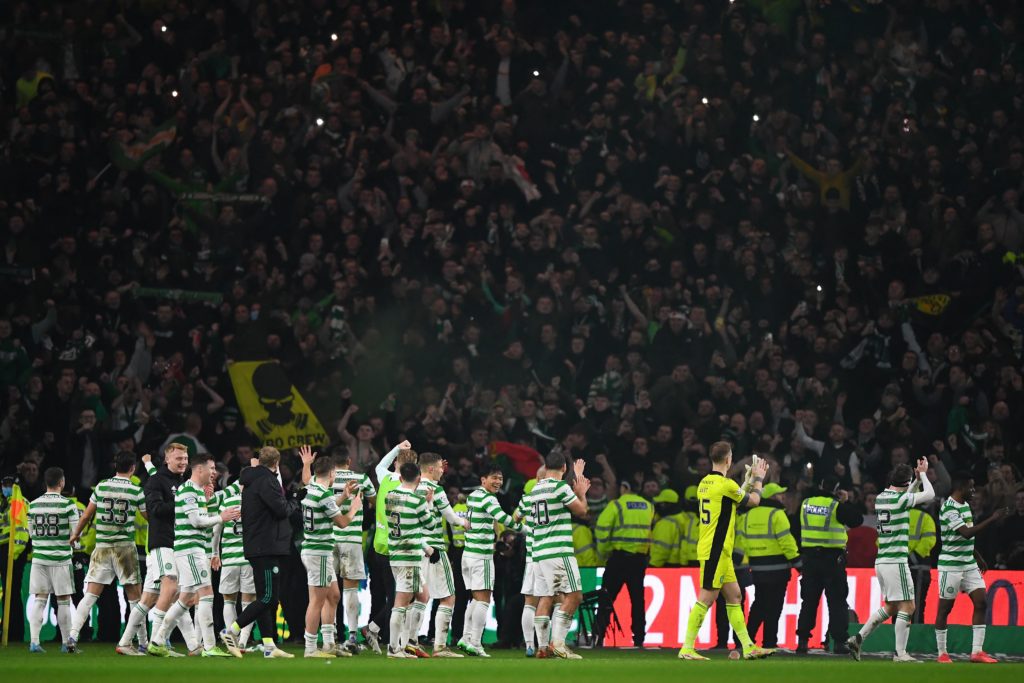 The redemption arc of this Hoops team is so similar to that 97-98 season that it'd add an extra layer to proceedings, provided we get the season finish we're all hoping for.
It helps, of course, that Oasis happen to be Celtic fans themselves. Noel Gallagher has been spotted at games, at made headlines in 2017 after singing lyrics to 'The Celtic Song' [Daily Record].
So, without wanting to relive the past too much, we say: bring it back to regular rotation, Celtic. And don't let anybody get in your way.
Read more: Callum McGregor pays ultimate tribute to Celtic fans; explains playing through injury
Related Topics