Celtic have reminded everyone there are only two weeks to go until the UEFA Champions League group stage draw, as the Bhoys await confirmation of the six-match gauntlet ahead this autumn.
The draw takes place at 4pm on Thursday 25th August, with Celtic guaranteed to be in pot four.
Qualifying continues in the Champions and League paths, with 12 teams set to be whittled down to six in the play-off round, which takes place before the fateful draw.
Most of these teams will be heading into pot four alongside Celtic, Club Brugge and Marseille, although the French still have an outside shot of moving up into the third pot..
In terms of potential opponents for the Bhoys, Benfica are the most likely to move from qualifying into pot three, as long as they can make it past Dynamo Kyiv.
The Portuguese side have the best co-efficient of all the remaining sides in qualifying and would join the other seven clubs already guaranteed to be in the third pot if they win the two-legged play-off.
MORE CELTIC STORIES
Celtic Champions League draw taking shape
Pot one is guaranteed to contain Real Madrid, Eintracht Frankfurt, Manchester City, Milan, Bayern Munich, Paris Saint-Germain, Porto and Ajax.
Pot two, meanwhile, is made up of Liverpool, Chelsea, Barcelona, Juventus, Atletico Madrid, Sevilla, RB Leipzig, Tottenham Hotspur.
The seven teams already in pot three are Borussia Dortmund, RB Salzburg, Shakhtar Donetsk, Inter Milan, Napoli, Sporting CP and Bayer Leverkusen. As mentioned, Benfica are the hot favourites to join them.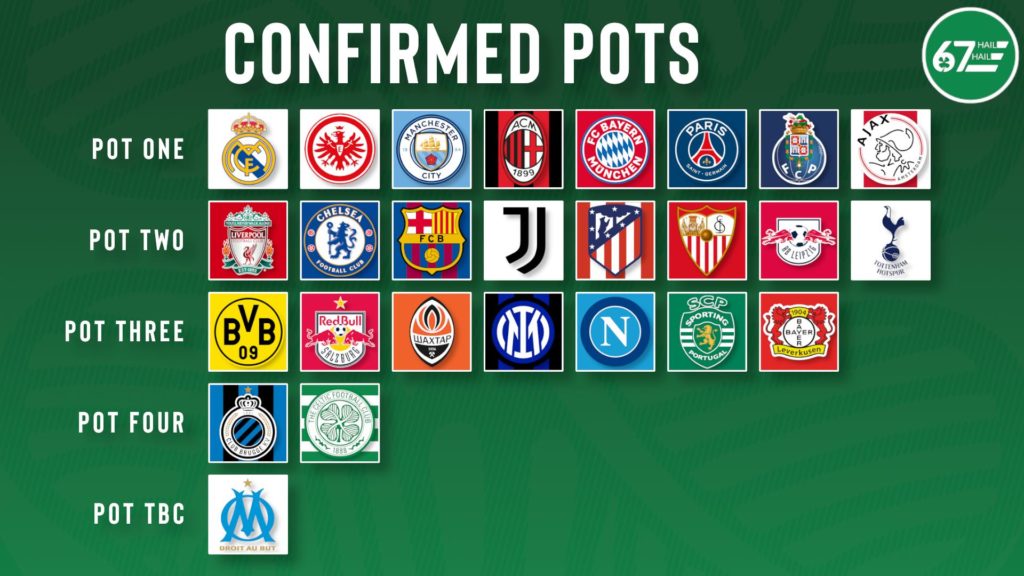 Clearly there is danger in every pot and Celtic will do well to make it into third place in the group come the end of the six matches, even with one of the kinder draws on the 25th.
Nonetheless, it's an exciting time for everyone at the club, and nobody will be looking forward to the draw more in two weeks than Ange Postecoglou, his coaching staff and the players.
Bring it on!
In other news, Video: Brilliant Rocco Vata goal part of impressive Celtic comeback.
Related Topics